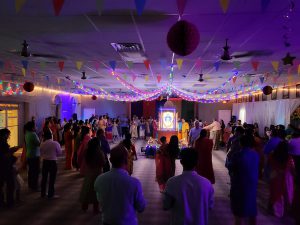 Temple Timings
and Signups
Dear Devotees
As World Health Organization declared the Coronavirus as a Pandemic. Given the nature of interactions at the Hindu Temple, we want to share important tips on how to stay healthy, remind you of the health and wellness resources that are available and inform you of the national guidelines to help minimize the spread of illness. Please rely on information that links directly provided by CDC, and be aware that other sources may not reflect the most current and accurate information.
Guidelines to Prevent Caronaviruls Disease (COVID-19):
In order to prevent person to person spread and for the safety of devotees, priest and volunteers following steps are taken with immediate effect. Your co-operation and support is highly appreciated to follow these policies & guidelines. Policies will be effective for a month and will be re-visited as situation progresses.
Devotees While Entering the Temple – Wash your hands with soap thoroughly at restrooms before entering the temple. Carry your own hand sanitizer and use it frequently
Avoid close contact with people who are sick.
Avoid touching your eyes, nose and mouth.
Stay home when you have flu like symptoms or sick.
Cover your cough or sneeze with a tissue; then throw the tissue in the trash.
Wash your hands each time after Rest Room use
Devotees are advised to not bring any prasad, food or fruits from home either to offer to gods or to distribute to devotees.
Your cooperation is highly appreciated. Prevention is better than Cure
As per CDC guidelines, please don't come to the temple if you come under any of the following criteria
If you have returned from China, Italy, Iran, Japan or South Korea within the past 14 days or if you have been in contact with someone who has returned from these countries within the past 14 days OR You have been in contact with someone who has a confirmed case of COVID-19
We encourage everyone to follow the same guidelines or procedures with the flu and be prepared to stay calm and healthy to lower your risk.
Important information and links from CDC and World Health Organization:
What do we need to know about coronavirus